Today we have millions of facts literally at our fingertips; millions of facts like millions of puzzle pieces, with no clue how to fit them together. In the ancient world, before the explosion of information, the puzzle was simpler and people knew how they fit in. 
World In Tune: Music in the Ancient World goes back in time to five great civilizations: Egypt, Sumer, China, India and Greece. Strangely enough, for them music, which we see as entertainment, was the unifying creative force.  And around this central core, the works of man took their place. Does this sound strange? Of course it does, but it really happened. In ancient China the college of music was in the enclosure of the Imperial Palace. The emperor's first task was to find the tuning which would bring harmony to his reign. This centrality of music was common in these old civilizations.
World In Tune explores the great achievements of ancient people in literature, mythology, art and architecture with music as the core.
WIT is being used in classrooms throughout the US and is the perfect tool for teachers who want to bring out the relationships of different subjects for their students. Because WIT deals in large unifying ideas the teacher can adapt the material to the level or grade she or he teaches.
WIT covers five civilizations – Egypt, Sumer/Babylon, China, India and Greece – from approximately 3000 BCE to the beginnings of the first millennium CE.
This is an integrative curriculum  for grades K-12, and is a great resource for home-schoolers,  emphasizing rhythm, modes, listening and creating sounds. Also contains general information about these five civilizations. Print book $69.95
Sample pages from World In Tune: Music in the Ancient World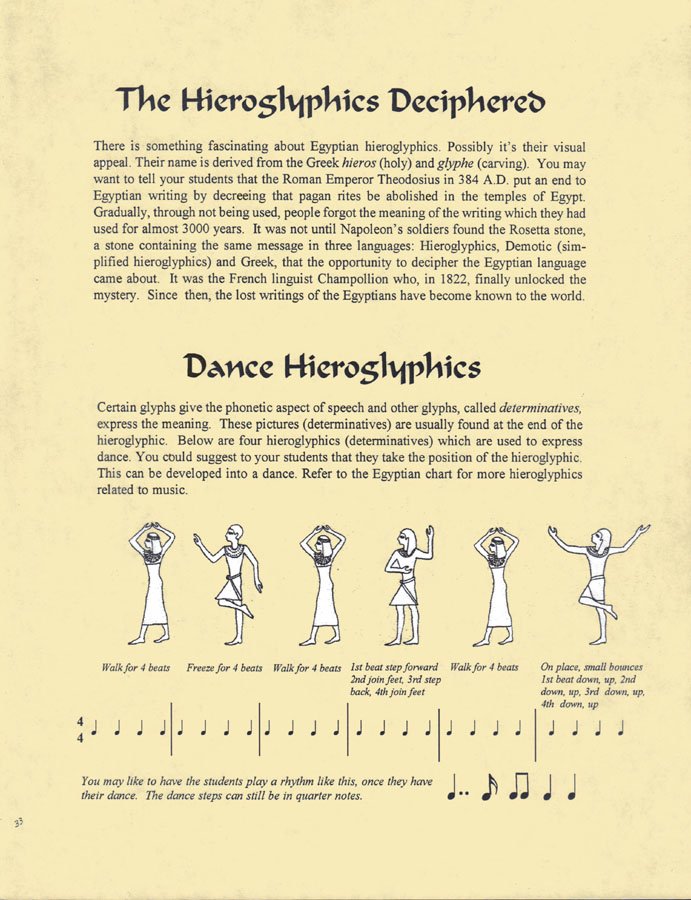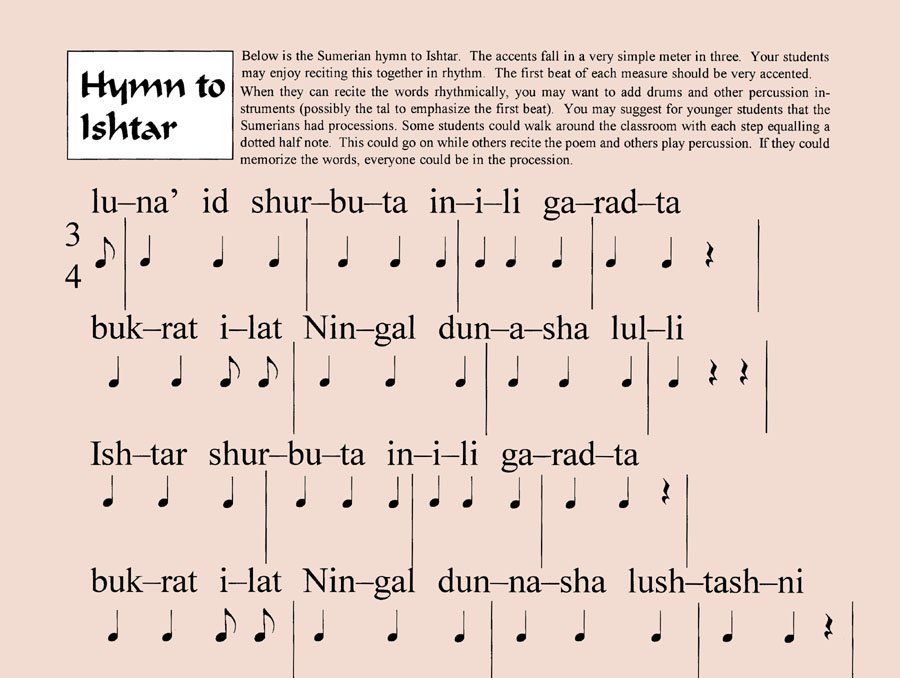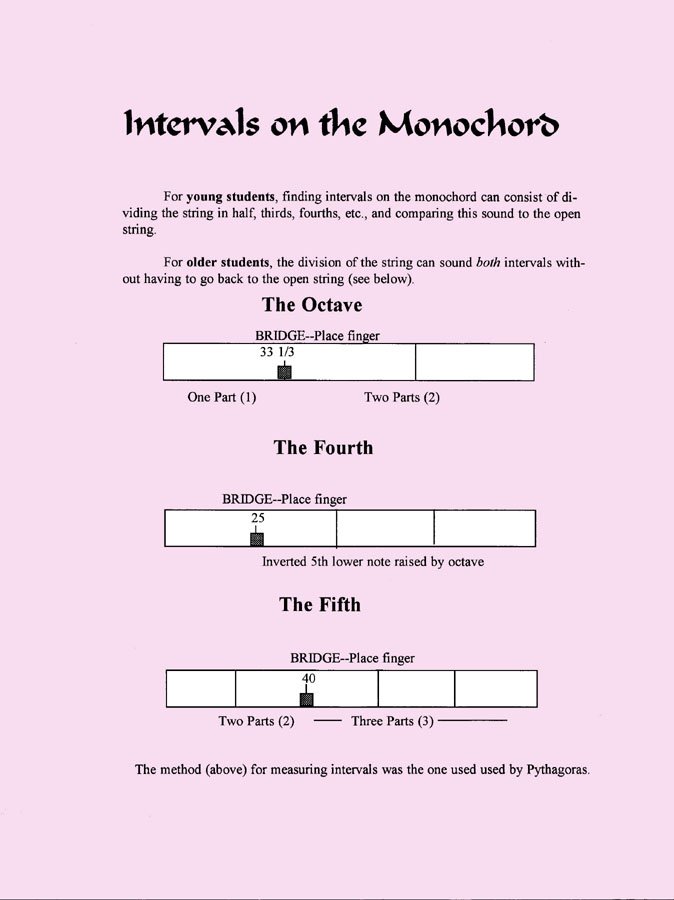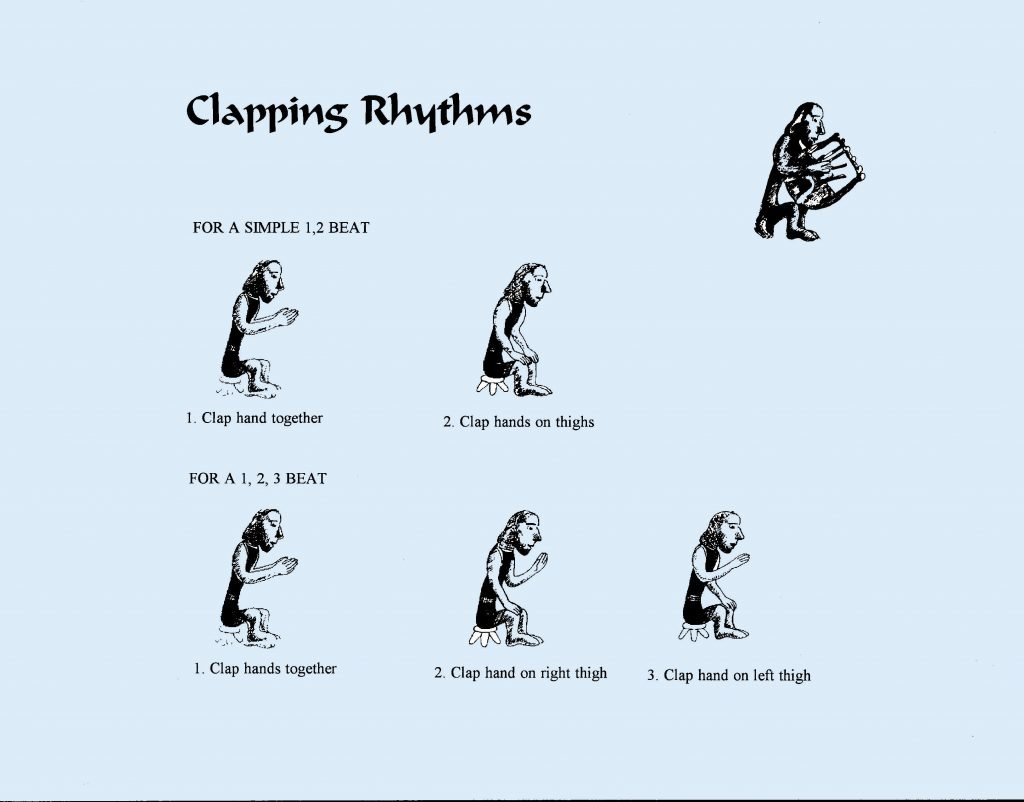 Anne Brown, Oslo, Norway: ( Anne Brown, soprano, was George Gershwin's choice to play Bess in his opera "Porgy and Bess".) 
"Forgive me for not writing sooner to thank you for WORLD IN TUNE. It is a fascinating study and all children interested in music should study it. Also, it touches on so many aspects of life which are not usually connected with music. When I  read the chapter "In search of the lus", I was reminded of a piece I read many years ago. In a certain kingdom in China,  the leader (King?) sent his Music envoys to each of the different small kingdoms within  the great Kingdom, to examine the musical instruments and to check that they were tuned correctly. In the places where they were out of tune, there was war!  Not so in the places where the instruments (which were used daily for many purposes) were in tune, — there was no war. And after the correct tuning of warring "nations" the fighting stopped. Interesting, don't you think? And in line with some of the ideas in your book. … I am very happy to have this book with so many fine ideas."
Elise Sobol, Music for Special Learners Chairperson, author of "ATTITUDE AND APPROACH FOR

TEACHING MUSIC TO SPECIAL LEARNERS"
"Yesterday my special learners danced hieroglyphics according to your text. They truly enjoyed it although they have no idea how long ago, long ago was. (Smile)"
"Anyway — the more I study your materials and about the ancient civilizations the more fascinated I have become and now it is just a matter of choosing a few of the ideas to give out at the 75 minute session."